Can bremelanotide be the answer to your sex life?
What is sexual dysfunction and hypoactive sexual desire disorder?
Sexual dysfunction is defined as a group of sexual disorders, which include difficulties with desire, interest, arousal, orgasm, erectile dysfunction (ED), or pain (dyspareunia) that may result in personal and interpersonal distress, and impair overall health and quality of life.
Hypoactive sexual desire disorder is defined as the persistent or recurrent deficiency or absence of sexual fantasies or thoughts and desire for – or receptivity to – sexual activity.
Prevalence of sexual disorders in male and females
The most prevalent sexual dysfunction among women is hypoactive sexual desire disorder. Hypoactive sexual desire disorder affects ~10% of women aged 18–44 years in the United States and there is minimal U.S. Food and Drug Administration (FDA)–approved therapy options for hypoactive sexual desire disorder in premenopausal women.
Erectile dysfunction is a very prevalent disease amongst males with prevalence increasing with age. The Massachusetts Male Aging Study reported a prevalence of 52% and approximately 40% of men are affected at age 40 and nearly 70% of men affected at age 70.
What factors lead to sexual disorders?
A multitude of factors have been identified that contribute to sexual disorders, including biologic, psychologic, and social components.
From a biological standpoint research shows it may be caused by an imbalance in the excitatory and inhibitory neural pathways in the prefrontal cortex and limbic system implicated in human sexual response which leads to increased inhibition, decreased excitation, and diminished responsiveness to sexual cues.
Melanocortins have been identified as a key component in serving a role in sexual behaviors. Melanocortins collectively are made up of adrenocorticotropic hormone (ACTH), and α, β, and γ-melanocyte-stimulating hormones (α-, β-, γ-MSH). Together they target the melanocortin receptors, most importantly the melanocortin-4 receptor (MC-4R).
They are a group of peptide hormones and are directly associated with excitatory pathways and linked to appetitive sexual behavior.
How does PT-141 works?
PT-141 is a synthetic peptide analog of α-melanocyte-stimulating hormone (α-MSH) that acts as a melanocortin receptor agonist. It primarily exerts its effects by binding to the MC-4R. Unlike other sexual disorder drugs such as PDE-4 inhibitors (i.e. Sildenafil) it has a its own unique mechanism.
MC-4R is primarily expressed in the central nervous system (CNS) and has numerous biological effects which include: energy homeostasis, erectile function, promotes penile erection, cardiovascular function, amongst others.
Other receptors that PT-141 can bind to inducing a biological effect include MC-3R, MC-1R, and MC-2R, and MC-5R.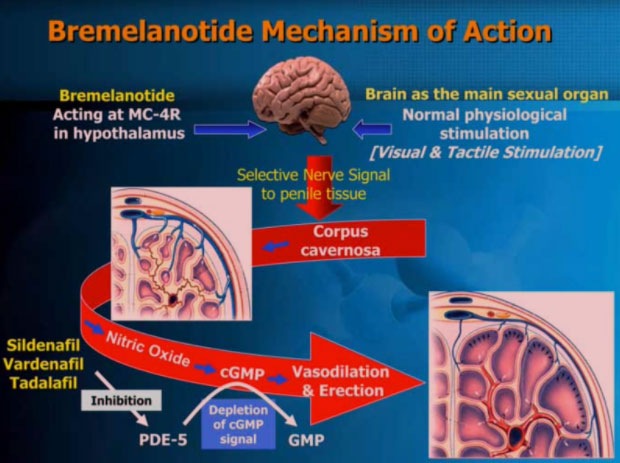 What this means for you?
Due to the fact PT-141 works through the melanocortin receptors this allows the medication to work for both male and females; whether that be for sexual arousal disorders or erectile dysfunction that stem from causes other than just reduced blood flow to the genital area.
Research has shown PT-141 has provided moderate to high sexual desire when compared to placebo (P = 0.0114) and a trend toward a more positive response regarding feelings of genital arousal when compared to placebo within the female population.
In regards to male's, erectile response induced by PT-141 was statistically significant. It can potentially be an alternative treatment option for patients without an adequate response to PDE5 inhibitors, which are the most commonly used medications treating erectile dysfunction at this time.
Is PT-141 right for you?
If you have been experiencing sexual dysfunction without adequate relief using other viable treatments PT-141 could be your solution. Research thus far has shown to be very promising and our compounding pharmacy can work with your prescriber to see if the medication could be ideal for you.
References
Kingsberg SA, Clayton AH, Portman D, et al. Bremelanotide for the Treatment of Hypoactive Sexual Desire Disorder: Two Randomized Phase 3 Trials. Obstet Gynecol. 2019;134(5):899-908. doi:10.1097/AOG.0000000000003500
Simon JA, Kingsberg SA, Portman D, et al. Long-Term Safety and Efficacy of Bremelanotide for Hypoactive Sexual Desire Disorder. Obstet Gynecol. 2019;134(5):909-917. doi:10.1097/AOG.0000000000003514
Shifren, Jan L. MD1; Monz, Brigitta U. MD2; Russo, Patricia A. PhD3; Segreti, Anthony PhD4; Johannes, Catherine B. PhD5 Sexual Problems and Distress in United States Women: Prevalence and Correlates, Obstetrics & Gynecology: November 2008 - Volume 112 - Issue 5 - p 970-978 doi: 10.1097/AOG.0b013e3181898cdb
Patel CK, Bennett N. Advances in the treatment of erectile dysfunction: whats new and upcoming?. F1000Res. 2016;5:F1000 Faculty Rev-369. Published 2016 Mar 18. doi:10.12688/f1000research.7885.1
Rosen, R., Diamond, L., Earle, D.

et al.

Evaluation of the safety, pharmacokinetics and pharmacodynamic effects of subcutaneously administered PT-141, a melanocortin receptor agonist, in healthy male subjects and in patients with an inadequate response to Viagra@reg;.

Int J Impot Res

16, 135–142 (2004). https://doi.org/10.1038/sj.ijir.3901200
Lakin, M., MD. (2018, June). Erectile Dysfunction. Retrieved September 24, 2020, from http://www.clevelandclinicmeded.com/medicalpubs/diseasemanagement/endocrinology/erectile-dysfunction/
Hallam, T. J., Spana, C., Earle, D. C., Shadiack, A. M., & Sharma, S. D. (2007). Melanocortins in the Treatment of Male and Female Sexual Dysfunction.

Current Topics in Medicinal Chemistry, 7

(11), 1137-1144. doi:10.2174/156802607780906681