Coronavirus Disease (COVID-19)
What is COVID-19?
Despite drastic containment measures, Coronavirus Disease known as COVID-19, characterized as a pulmonary infection in humans, continues to spread. The United States now leads the world in confirmed cases with more than 81,321 people sick including more than 1,000 deaths, surpassing China's reported total. There is no vaccine or cure for COVID-19 at the time, however, many therapies are being investigated to mediate the virus. Currently, the possible effects of hydroxychloroquine against COVID-19 are being investigated.
What is Hydroxychloroquine?
Hydroxychloroquine is in the disease-modifying antirheumatic drug (DMARDs) class which is widely used for treating inflammation. This medication has been used in other parts of the world affected by COVID-19 and has had promising results which are being investigated in the United States.
How Does It Work?
Hydroxychloroquine has the ability to increase the intracellular pH and interrupt binding between receptors which work to suppress inflammation. Hydroxychloroquine interferes with many immunological processes mentioned which thus alters subsequent pro-inflammatory signaling activation and cytokine production. Coronavirus triggers an overactivation of the immune system, hydroxychloroquine has the ability to mediate this which can attenuate progression from mild to severe disease.
Overall, hydroxychloroquine inhibits two key steps required for the coronavirus to enter cells: receptor binding and membrane fusion. Hydroxychloroquine's ability to mediate the severe progression of COVID-19, antiviral effects at pre and post-infection stages as well as safety and side effect profile make it a practical medication for managing COVID-19.
What are the Recommended Dosages?
According to the American Society of Health-System Pharmacists (ASHP), the dosing for chloroquine phosphate and hydroxychloroquine can be as follows:
Oral chloroquine phosphate: 500 mg twice daily for 10 days
Oral chloroquine phosphate:

500 mg twice daily for 7 days (adults 18-65 years weighing >50 kg)
500 mg twice daily on days 1 and 2, then 500 mg once daily on days 3-7 (adults weighing
What Other Therapies are Available for COVID-19?
Gilead Sciences 'experimental drug remdesivir is being investigated as a treatment for COVID-19. On Monday, March 23, 2020, it received the orphan drug designation from the FDA. This will allow a seven-year market exclusivity period as well as other incentives for Gilead Sciences'.
The FDA is also allowing plasma donations from COVID-19 survivors to be used as a treatment for the most severe cases of COVID-19. This treatment, known as convalescent plasma, has been used in flu pandemics and outbreaks before but has not yet been proven against COVID-19.
Can My Pet Get COVID-19?
Currently, the CDC has not received any reports of pets or other animals becoming sick with COVID-19. Further studies are needed to understand if and how different animals could be affected by COVID-19.
What Is Our Part?
It is our responsibility to practice good hygiene, social distancing and self-quarantine when appropriate during the COVID-19 pandemic. If you develop symptoms, stay home to prevent spreading the virus.
Symptoms include:

Fever
Cough
Shortness of breath
If symptoms are severe, seek medical attention, severe symptoms include:
Trouble breathing
Persistent pain or pressure in the chest
New confusion or inability to arouse
Bluish lips or face
The World Health Organization urges good hygiene to prevent contracting the virus which include:
Wash your hands regularly for 20 seconds, with soap and water or alcohol-based hand rub
Cover your nose and mouth with a disposable tissue or flexed elbow when you cough or sneeze
Avoid close contact (1 meter or 3 feet) with people who are unwell
Stay home and self-isolate from others in the household if you feel unwell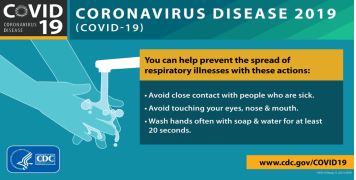 References: