Migraines over Midrin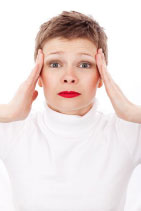 By Casey Battersby
Pharm.D Candidate 2020
July 8th, 2019
CareFirst Specialty Pharmacy
What is Midrin?
Midrin is a combination product of acetaminophen 325 mg, isometheptene mucate 65  mg, and dichloralphenazone 100 mg. It is used for the treatment of migraine and tension headaches and works by targeting the headache pain via three different pathways. The acetaminophen component helps to reduce pain by inhibiting central prostaglandin synthesis,  specifically COX-2, to help elevate the patient's pain threshold. The isometheptene mucate component reduces stimuli leading to vascular headaches by causing vasoconstriction of dilated cranial and cerebral arterioles. The dichloralphenazone component is a prodrug of  chloral hydrate and antipyrine which are a sedative and relaxant respectfully and aid in  reducing the patient's emotional response during a migraine episode.
The onset of action of Midrin is within 5 to 10 minutes of taking the medication and the time to peak serum concentration is anywhere from 10 to 60 minutes depending on the specific patient parameters and the dose given. Midrin's duration of action is said to be around  4 to 6 hours with a half life of 2 to 3 hours in most adult patients.
In regards to dosing, for migraine headaches, Midrin is given two capsules to start,  followed by 1 capsule every hour until relief is obtained with a maximum of 5 capsules every 12  hours. For tension headaches, Midrin is given 1 to 2 capsules every 4 hours with a max of 8  capsules a day. The max dose per day of acetaminophen is 4g per day and it is important that  patients do not exceed that dose and are careful to not take other medications that contain  acetaminophen.
Midrin is mainly a well-tolerated medication. Though it is important to note that this medication has a black box warning for hepatotoxicity and its use is contraindicated in patients with hepatic disease, as well as in patients with renal disease and cardiovascular disease.  Common adverse effects associated with this medication include dizziness and skin rash.
Accessibility Issues
As of January 1st, 2018, Midrin is no longer available via commercial manufacturers in  the United States because the Food and Drug Administration (FDA) is no longer recognizing  isometheptene, one of the components of Midrin, an approved medication.
Isometheptene was originally approved in 1948 but only through studies for safety not studies for efficacy. Since then, the FDA has changed the standards of drug approval to contain studies for both safety and efficacy. The FDA has been trying since 2007 to get manufacturers of isometheptene to run efficacy studies but no company has complied. Because of this, on  October 13th, 2017, the FDA informed these manufacturers about the withdrawal of  isometheptene's approval.
Since Midrin contains isometheptene, the manufacturing of the medication has been discontinued. Until a new drug application is submitted to the FDA and properly studied for  isometheptene, the drug with remain unapproved.
Where can I get Midrin?
Despite being an unapproved drug, Midrin is still available to patients if it is ordered to a  compounding pharmacy to be specially made. How is this possible? Since isometheptene was approved for safety under the 1938 Food, Drug, and Cosmetic Act, it can still be used, it just cannot be marketed and manufactured by a manufacturing company without a new drug application. Drugs can be compounded without the new drug application as long as they were not discontinued for safety reasons, are not on the FDA "Do Not Compound" list, and as long as they have a USP monograph -- isometheptene fits all of that criteria. So if a patient needs  Midrin, it can be ordered by their doctor to a compounding pharmacy.
If you are looking to have Midrin compounded, it is available at CareFirst Specialty Pharmacy, located at 2200 Garry Rd, Suite 1, Cinnaminson, NJ 08077. Phone - 844-822-7379, Fax - 844-922-7379
References:
Midrin. Lexicomp Online, Hudson, Ohio: Wolters Kluwer Clinical Drug Information, Inc.; 2019; July 8, 2019.
Isometheptene. Lexicomp Online, Hudson, Ohio: Wolters Kluwer Clinical Drug Information, Inc.; 2019; July 8, 2019.
Dichloralphenzone. Lexicomp Online, Hudson, Ohio: Wolters Kluwer Clinical Drug Information, Inc.; 2019; July 8, 2019.
Acetaminophen. In: In Depth Answers [database on the Internet]. Greenwood Village (CO): Truven Health Analytics; 2019 [cited 2019 July 9]. Available from: www.micromedexsolutions.com. Subscription required to view.
Dichloralphenazone. In: In Depth Answers [database on the Internet]. Greenwood Village (CO): Truven Health Analytics; 2019 [cited 2019 July 9]. Available from: . Subscription required to view.
https://www.fda.gov/drugs/unapproved-prescription-drugs-drugs-marketed-united-st ates-do-not-have-required-fda-approval/fda-notification-regarding-isometheptene-co ntaining-drug-products