Topical Sirolimus for Facial Angiofibromas
What are facial angiofibromas?
Facial angiofibromas are a common symptom of a condition called tuberous sclerosis complex (TSC). TSC is a rare genetic disease that causes non-cancerous masses to form in the brain and other organs including the kidneys, heart, and lungs. These benign tumors can cause a variety of symptoms for the affected patient, including seizures, impaired intellectual development, autism, behavioral problems, and skin abnormalities such as facial angiofibromas.
Facial angiofibromas are red colored spots or bumps that appear on the face and are made up of blood vessels and fibrous tissue. They typically start to appear around two to five years old, and increase in number and size until teenage years, when they stabilize.
How are facial angiofibromas treated?
Unfortunately, facial angiofibromas typically do not improve on their own and need to be treated. Options for treatment include physical or medical methods. Physical options for facial angiofibroma treatment include: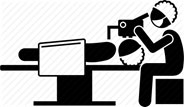 Dermabrasion
Surgical excision
Laser therapy
Radiofrequency ablation
Cryotherapy
Electrocoagulation
Medical options for facial angiofibroma treatment include:
Tranilast
Podophyllotoxin
Topical sirolimus
Physical therapies typically require sedation or anesthesia for surgery, and therefore may be unwise for patients with seizure disorders associated with TSC. Further, physical removal of facial angiofibromas may cause scarring, and angiofibromas may recur. Evidence for the use of tranilast and podophyllotoxin is limited only to case reports.
How does topical sirolimus work to treat facial angiofibromas?
Tuberous sclerosis complex results in an altered pathway in the body called mTOR that regulates growth, which results in overgrowth of tissues such as the benign masses in the brain and facial angiofibromas. Topical sirolimus works by inhibiting the mTOR pathway and causing the growth of angiofibromas to slow, and the bumps or plaques to become smaller. Initially, sirolimus in tablet or capsule form was studied, but was found to cause significant adverse effects. Because topical sirolimus does not appreciably enter the bloodstream , these adverse effects are minimized and patients typically only experience irritation.
Several studies have demonstrated the utility of topical sirolimus in patients with facial angiofibromas. Several prospective studies evaluating topical sirolimus in strengths ranging from 0.05% to 1% have shown a significant improvement in angiofibromas. Additionally, dermatologists rated end-of-treatment photos significantly better in patients taking topical sirolimus, and patients were found to have significantly improved quality of life.
Because sirolimus is currently only available in forms such as tablets or capsules, topical sirolimus requires compounding. CareFirst Specialty Pharmacy is able to compound topical sirolimus to a patient's specific medical needs; for more information on compounded products available from CareFirst Specialty Pharmacy, please visit https://www.cfspharmacy.pharmacy/sirolimus-topical-cream.
References
Tuberous Sclerosis. National Organization for Rare Disorders. 2019. Access at: https://rarediseases.org/rare-diseases/tuberous-sclerosis/
Tuberous Sclerosis Fact Sheet. National Institute of Neurologic Disorders and Stroke: National Institutes of Health. March 2020. Access at: https://www.ninds.nih.gov/Disorders/Patient-Caregiver-Education/Fact-Sheets/Tuberous-Sclerosis-Fact-Sheet
Haemel AK, O'Brian AL, Teng JM. Topical Rapamycin: A Novel Approach to Facial Angiofibromas in Tuberous Sclerosis. Arch Dermatol. 2010;146(7):715–718.
Salido-Vallejo R, Garnacho-Saucedo G, Moreno-Giménez JC. Current options for the treatment of facial angiofibromas. Actas Dermosifiliogr. 2014 Jul-Aug;105(6):558-68.
Koenig MK, Bell CS, Hebert AA, et al. Efficacy and Safety of Topical Rapamycin in Patients With Facial Angiofibromas Secondary to Tuberous Sclerosis Complex: The TREATMENT Randomized Clinical Trial. JAMA Dermatol. 2018;154(7):773–780.
Madke B. Topical rapamycin (sirolimus) for facial angiofibromas. Indian Dermatol Online J. 2013;4(1):54-57.
Wataya-Kaneda M, Nakamura A, Tanaka M, Hayashi M, Matsumoto S, Yamamoto K, Katayama I. Efficacy and Safety of Topical Sirolimus Therapy for Facial Angiofibromas in the Tuberous Sclerosis Complex : A Randomized Clinical Trial. JAMA Dermatol. 2017 Jan 1;153(1):39-48.
Hatano, T., Ohno, Y., Imai, Y. et al. Improved health-related quality of life in patients treated with topical sirolimus for facial angiofibroma associated with tuberous sclerosis complex. Orphanet J Rare Dis. 2020;15(133):1-7.