Overview: Patients with extensive vitiligo may choose to depigment the remaining areas of their skin to attain uniform skin tone. Monobenzone or monobenzyl ether of hydroquinone (MBEH) is a drug approved by the FDA for final depigmentation of the skin in patients with advanced vitiligo (vitiligo universalis). It is prepared as a 20-40% topical formulation such as a cream or ointment and is applied twice a day to affected areas. Monobenzone has been shown to start irreversibly depigmenting skin in 1-4 months, and full effects are usually seen after 5-12 months. Beside are pictures showing the progression of a patient's depigmentation before, and at 4, 6, and 8 months of monobenzone treatment.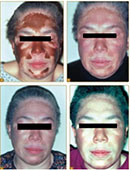 There are no currently available monobenzone creams. Monobenzone creams must be compounded in a proper compounding pharmacy. CareFirst Specialty Pharmacy has extensive experience in compounding custom monobenzone formulations to fit your needs. A prescription for monobenzone is required. Ask your dermatologist today.
Sun Care: After administering a monobenzone cream to your skin, the skin will become especially sensitive to light. Direct sunlight exposure to monobenzone treated skin is discouraged. If unavoidable, sunscreen should be applied to the skin for even short duration sun exposures. Reducing sun exposure following monobenzone therapy will reduce the chances of repigmentation and skin irritation.
Risks: Do not apply monobenzone to your skin if you are allergic to it. Monobenzone may cause mild to moderate skin irritation or dermatitis. Sites distant from monobenzone application have frequently become irreversibly depigmented. Contact your doctor if any serious effects occur.
References
Benoquin [package insert]. Costa Mesa, CA 92626. ICN pharmaceuticals; 2000.
AlGhamdi KM, Kumar A. Depigmentation therapies for normal skin in vitiligo universalis. JEADV 2011;25(7):749-757.
Rordam OM, Lenouvel EW, Maalo M. Successful Treatment of Extensive Vitiligo with Monobenzone. The Journal of Clinical and Aesthetic Dermatology. 2012;5(12):36-39.
Depigmentation for the Treatment of Extensive Vitiligo. (2008).Vitiligo (pp. 207–213). Oxford, UK: Blackwell Science Ltd. doi:10.1002/9780470760116.ch26