Finasteride For Hair Loss
January 4th, 2023
Racelyn Lawas
Pharm.D. Candidate 2023
Jefferson College of Pharmacy
Hair growth cycle
The hair growth cycle involves four different phases: anagen, catagen, telogen, and exogen.
Anagen

: the "active" or "growth" phase where hair grows about half an inch each month or 6 inches a year. This growth is due to cells rapidly dividing at the hair roots. This phase can last between 3 to 5 years.

Catagen

: the "transitional" phase where active hair growth stops after being removed from its blood supply. This phase is much shorter, lasting only approximately 10 days.

Telogen

: the "resting" phase where the hair strand remains in the follicle but is no longer growing. This phase lasts between 90 to 100 days.

Exogen

: the final phase where hair strands begin to shed from the follicles and the hair growth cycle restarts.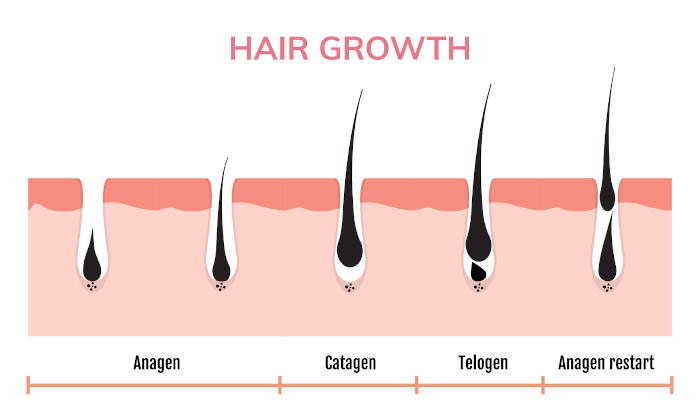 Some causes of hair loss
Genetics: Genetic predisposition is the most common reason for hair loss in both men and women and this commonly occurs alongside aging. For men, the hairline begins to recede and may develop bald spots. For women, hair becomes thin throughout the entire scalp.
Hormonal imbalance: as seen in polycystic ovarian syndrome (PCOS), pregnancy, childbirth, menopause, thyroid disease. Imbalances could also be a result of taking certain types of medications such as birth control pills, beta blockers, retinoids, antidepressants.
Stress: any stressors or severe emotional events could temporarily cause hair loss
Hair care: certain types of hairstyles which tightly pull the hair from the scalp may result in hair loss; others include excessive shampooing of the hair and heating tools such as blow dryers, straighteners, etc.
What is finasteride used for?
Finasteride is prescribed to treat male pattern baldness or androgenic alopecia. It also used to treat benign prostatic hyperplasia (BPH) in men which is caused by an enlarged prostate. Male pattern baldness is a condition where hair follicles in the scalp begin to shrink resulting in lesser, shorter, and thinner hair. Approximately 60% of men develop hair loss by 50 years of age. In some cases, hair loss occurs as some men are genetically predisposed to the condition and in other cases, it is likely due to changes in their hormones.
The development of male pattern baldness is caused by an androgenic hormone called dihydrotestosterone (DHT). Finasteride works by inhibiting the conversion of testosterone to DHT. By decreasing the amount of DHT, it allows follicles to grow thicker and longer hair.
In a clinical trial with 1879 male participants who received oral finasteride 1mg/day, it has shown to promote scalp hair growth after one year of use and was maintained during the two-year clinical trial. It has also shown to gradually slow the rate of progression at which hair loss occurs. After one year of treatment, 48% of men treated with finasteride showed improvement in hair growth which increased to 66% of men after two years of treatment. In addition, 83% of men treated with finasteride showed no further hair loss after two years of treatment.
Topical finasteride
In a trial involving 28 males and 24 female participants who were treated with 1ml of topical finasteride 0.005% solution vs placebo for 16 months, 73% of participants showed improvement in hair growth. Another trial compared topical finasteride 0.25% with oral finasteride 1mg in 24 male participants. Both treatments showed lowering of plasma DHT within one week of treatment. Compared to the oral formulation, topical formulations have a slower rate of absorption which means reduced adverse events.
Despite the prevalence of hair loss in men, the only FDA-approved treatments for hair loss are oral finasteride and topical minoxidil (over-the-counter Rogaine). Topical finasteride is a promising alternative to patients who wish to avoid the systemic adverse events of oral finasteride. There is also data on the use of finasteride and minoxidil combination for enhanced and synergistic effects. However, finasteride monotherapy and finasteride with minoxidil combination both remain as off-label uses for hair loss. Further research is warranted to fully understand the safety, efficacy, and optimal frequency and concentration of topical finasteride. Other treatments include hair transplant, which is often not covered by the insurance and the procedure exposes patients to infections.
Oral finasteride dosing
For hair loss in men, the recommended dosing is finasteride 1mg once daily taken with or without food. Improvement may not show until at least three months of daily use. The medication requires good compliance as it must be taken daily in order to maintain its benefits. Unfortunately, the results could be reversed within one year after discontinuation of finasteride; stopping finasteride results in a rise in DHT levels and reduced hair density.
Finasteride adverse effects
Oral finasteride is overall well-tolerated. However, there have been some reports of sexual disorders in men such as ejaculation disorders and erectile dysfunction as well as gynecomastia (enlargement of one or both breasts). General adverse effects include: dizziness, orthostatic hypotension, and decreased libido.
Topical finasteride is also well-tolerated with lower rates of adverse events when compared to the oral formulation. Reported adverse effects of topical finasteride include mild to moderate scalp irritation and localized redness.
Finasteride in women
Female pattern hair loss affects approximately one-third of women in their lifetime and commonly starts around menopause. Compared to men, hair loss is more distressing for women and could greatly impact their quality of life and well-being.
In a clinical trial with 37 premenopausal women who received finasteride 2.5mg/day (while taking oral contraception to prevent pregnancy), 62% of participants showed improvement in hair loss after one year of treatment. However, these positive results may not be due to finasteride alone as oral contraceptives may have additional benefits on promoting hair growth. In another clinical trial involving postmenopausal women treated with finasteride 1mg/day, the results showed no significant difference in hair growth and hair loss progression. These negative results were attributed to the lower daily dosage of finasteride which is potentially inadequate for women with female pattern hair loss. As a result of these inconclusive studies, finasteride is an off-label use for women with hair loss.
In addition, finasteride is highly teratogenic and is contraindicated in women of child-bearing age. Women who are pregnant should not use finasteride as it may cause birth defects. Pre-menopausal women who wish to use finasteride should talk with their provider prior to use.
Contents of any broken tablets can be absorbed through the skin. Therefore, women who are or may be pregnant should avoid handling these tablets.
Compounded topical finasteride
Any topical finasteride (either monotherapy or in combination with minoxidil) is not commercially available since it is not FDA-approved. At CareFirst Specialty Pharmacy, we can compound topical finasteride solution along with a delivery option. Proper evaluation from your primary care doctor is required prior to using finasteride. In addition, a prescription from your provider is required for compounding.
References
Iamsumang W, Leerunyakul K, Suchonwanit P. Finasteride and Its Potential for the Treatment of Female Pattern Hair Loss: Evidence to Date. Drug Des Devel Ther. 2020;14:951-959. Published 2020 Mar 2. doi:10.2147/DDDT.S240615
Iorizzo M, Vincenzi C, Voudouris S, Piraccini BM, Tosti A. Finasteride Treatment of Female Pattern Hair Loss. Arch Dermatol. 2006;142(3):298–302. doi:10.1001/archderm.142.3.298
Lee SW, Juhasz M, Mobasher P, Ekelem C, Mesinkovska NA. A Systematic Review of Topical Finasteride in the Treatment of Androgenetic Alopecia in Men and Women. J Drugs Dermatol. 2018;17(4):457-463.
McClellan KJ, Markham A. Finasteride: a review of its use in male pattern hair loss. Drugs. 1999;57(1):111-126. doi:10.2165/00003495-199957010-00014