Maropitant Citrate for Pets
What is maropitant citrate?
Maropitant citrate (also known as Cerenia®) is a drug used to treat nausea, vomiting, and motion sickness in cats and dogs.
It may also be used to treat mild pain and nausea associated with chemotherapy.
Maropitant is the only drug that is FDA-approved for the treatment of vomiting caused by motion sickness in dogs. The injectable formulation is approved to be used in both cats and dogs while the tablets are only approved for dogs.
Maropitant is not approved for human use.
How is Maropitant Citrate given?
Maropitant citrate is commonly given as either an oral tablet or a subcutaneous injection. However, other formulations can be compounded based on patient or client needs. Animals may sometimes have trouble and discomfort swallowing or taking injected medications. In this case, other formulations such as topical creams or liquid suspensions may be appropriate.
Dosing maropitant is based on an animal`s weight and specific indication for use. Proper dosing should be determined by your veterinarian before starting the medication.
Maropitant should be given at least 2 hours prior to traveling or when the dog is expected to have motion sickness. If maropitant is used to prevent motion sickness, the medication should ideally be given with a small amount of food to avoid any side effects including upset stomach and vomiting.
If it is given to prevent nausea and vomiting associated with chemotherapy, give maropitant before giving any chemotherapy medications.
What are the possible side effects of maropitant citrate?
If vomiting continues despite the use of maropitant, consult your veterinarian or seek medical attention to see if there is a more serious underlying cause of vomiting.
Reported side effects are rare, but they may include:
Drowsiness
Lack of appetite
Weight loss
Diarrhea
Vomiting
Excessive drooling
What do I do if I miss giving my pet the medication?
If you miss giving your pet maropitant, give the missed dose as soon as you remember. If the time is close to the pet`s next dose, it is recommended to skip the missed dose all together and take the next normal dose as scheduled. Do not give two doses at once or an extra dose.
Which drugs interact with maropitant?
Before starting the medication, be sure to tell your veterinarian about the medications your pet is currently taking including vitamins, supplements, and herbal products.
Drugs that may interact with maropitant include:
Ketoconazole
Itraconazole
Amlodipine
Fluoxetine
NSAIDs (IE ibuprofen, naproxen, aspirin)
What other precautions are there with maropitant?
Avoid maropitant in pets that are younger than 2 months old. Please use with caution in pets that have heart or liver disease along with pets who are pregnant, expected to be pregnant, and/or nursing.
Store oral tablets at room temperature and away from heat and direct sunlight. Injectable maropitant should be stored in the fridge after first vial puncture.
In the event that your veterinarian discontinues the use of maropitant, dispose of any remaining medication in the trash by placing any remaining medication in a sealable container mixed with undesirable substances like coffee grounds.
What can we offer?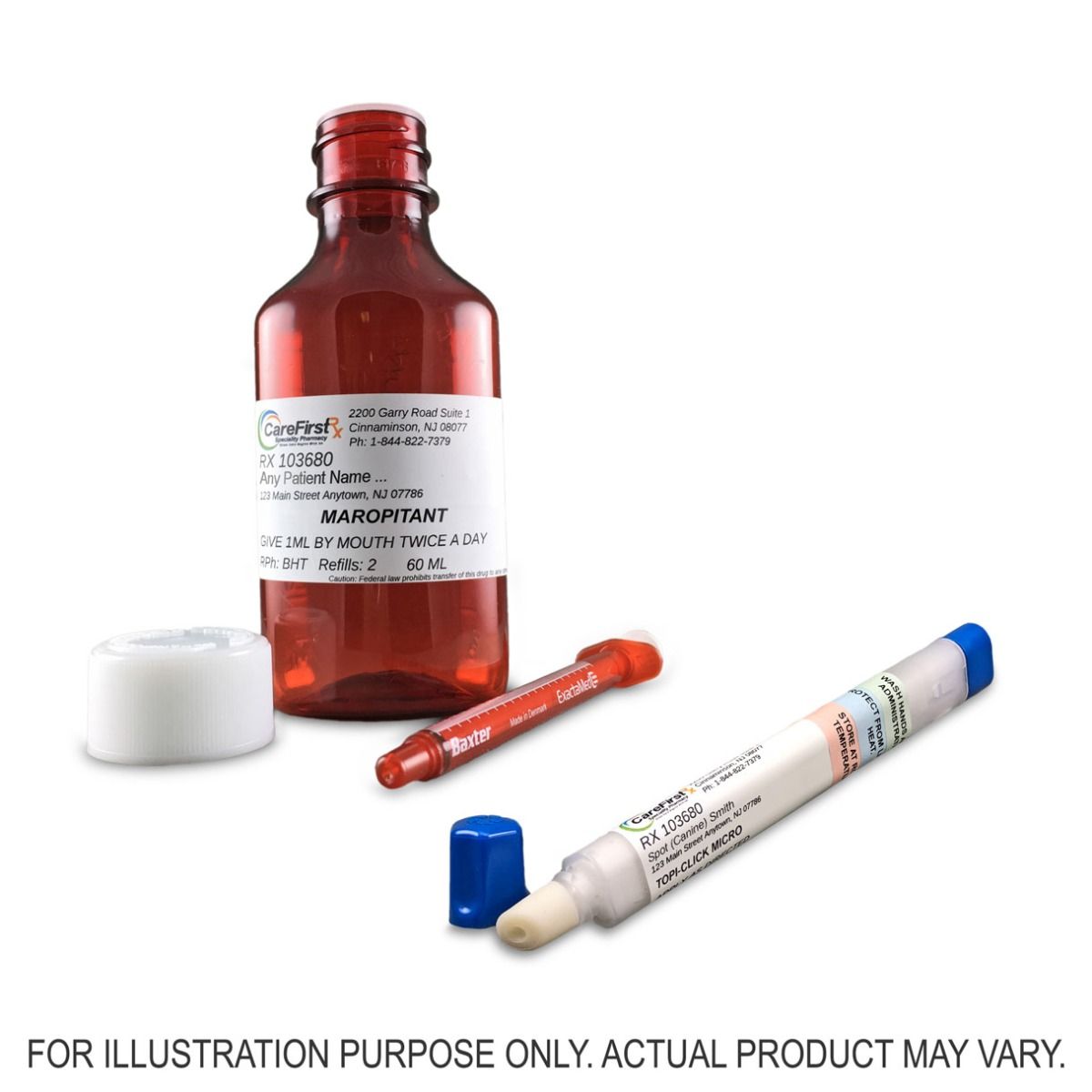 Maropitant citrate is taken usually as an oral tablet or subcutaneous injection. However, animals may sometimes have difficulty taking medications this way. This could be due to difficulty swallowing tablets, blockage in the GI tract, or fear of injections. Here at CareFirst Specialty Pharmacy, we can compound maropitant into different formulations other than tablets based on you and your pet`s needs and preferences. Along with oral capsules, we can compound maropitant into oral oil suspensions and transdermal creams.
Maropitant is dose based on a pet`s weight. If they are too overweight or underweight for commercially-available doses, we can compound the medication into concentrations appropriate for your pet`s care.
Strengths of oral suspension we can compound include:
Up to 10 mg/ml
Up to 20 mg/ml
Up to 30 mg/ml
Up to 40 mg/ml
Strengths of topical creams we can compound include:
Up to 6 mg/0.5 ml
Up to 12 mg/0.5 ml
If you are looking for your maropitant or any other medications to be compounded, you can contact CareFirst Specialty Pharmacy located at 400 Fellowship Road, Mount Laurel Township. NJ 08054.
Phone number: 844-822-7379.
References
Gollakner R. Maropitant citrate [Internet]. VCA Animal Hospitals; [cited 2022 Nov 8] Available from: https://vcahospitals.com/know-your-pet/maropitant-citrate.
Howe S. Cerenia® (maropitant citrate) [Internet]. PetMD; [published 2022 Aug 10; cited 2022 Nov 8]. Available from: https://www.petmd.com/pet-medication/cerenia-maropitant-citrate.
Dowling PM. Drugs to control or stimulate vomiting (monogastric) [Internet]. Merck; [updated 2022 Nov; cited 2022 Nov 11]. Available from: https://www.merckvetmanual.com/pharmacology/systemic-pharmacotherapeutics-of-the-digestive-system/drugs-to-control-or-stimulate-vomiting-monogastric.